Repair, Recovery
Industrial Fan
Survey of technological parameters, restoration design and urgently fabrication of the fans in the synchronously invested production lines of construction materials (cement, ceramic, chemical porcelain, fertilizers….) which are damaged, functioning back to normal.
To do that must be based on the knowledge, experience of rich, knowledgeable about technology lines, good equipment of production and repair means of TOMECO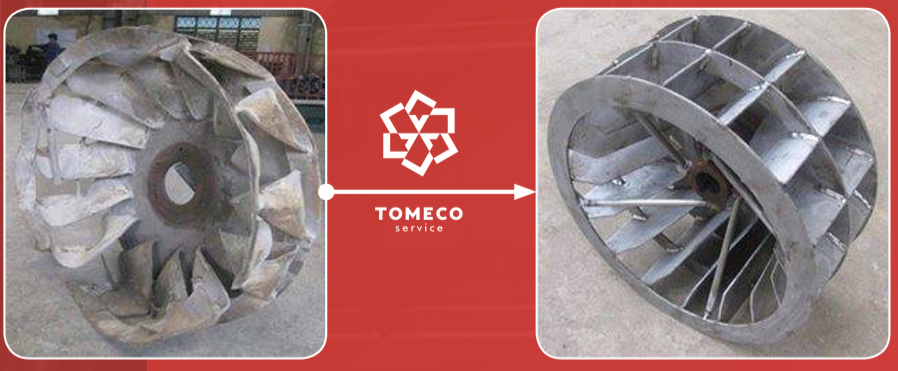 To date, TOMECO has been conducting corrective repairs for most of the fans used in different types of industries. The TOMECO SERVICE has been assigned to fix and put into operation in various sizes: diameter from 200mm to 3000mm and capacity from 250w to 2200kw, heat resistance to 400°C, corrosion resistant , wear-resistant.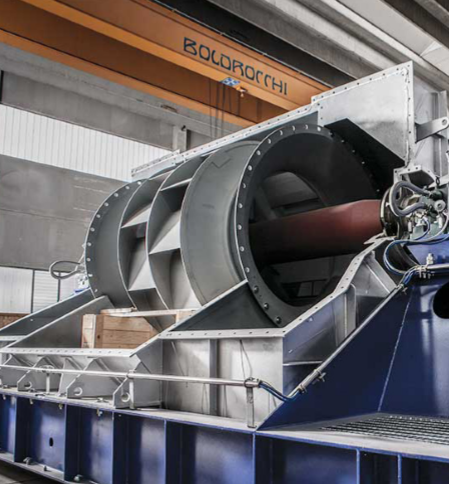 From the above risks, TOMECO SERVICE provides dynamic balance services for the following details and equipment:
Centrifugal rotor
Axial rotor
Electric motor Rotor
Centrifugal cage
Pump impeller
Rubber Roller, steel
Crankshaft
Puly
Turbine
Grinding Shaft
Turbo
Stone Crusher
Other types of rotary details
Dynamic Balance
In the Factory / In The Field
Dynamic balance is a relatively common form of damage to the individual rotor blades in particular and the rotor is generally used continuously in harsh conditions such as high corrosion, large dust concentration. Not only causes noise pollution and vibration, the phenomenon of imbalance also leads to a decrease in the performance of industrial fans and many other serious damage to the system.
Consulting To Improve
Industrial Fan System Performance
With a team of advanced technical specialists and computing software system, design, modern and accurate measurement, TOMECO SERVICE is one of the first units in Vietnam to implement consulting service packages to improve the performance of industrial fan systems Include:
Industrial Fan Performance Reviews
Rate overall system
Consulting solutions to increase fan and system performance
Energy Saving efficiency assessment
Using the service package, customers will be consulted and accurately determine the actual demand. By choosing "Right and sufficient" and making sure that the fan works at the highest possible performance point, TOMECO SERVICE's clients have been experiencing and proving the tremendous savings in operational costs.