APPLICATIONS
The BL245 products with very large flow capacity are widely used in the following needs:
SUPPLY AIR
Supply of fresh air pressure for the system of stairs to meet the requirements of fire safety system for apartment buildings – office.
EXHAUSTING AIR
Supply fresh air for ventilation, smoke extraction, smoke for the powder coating line, welding line. Supply fresh air through clean room, supply fresh air for central air conditioning system, air cleaning system, air curtains.
Meeting all the demands for large traffic
The superior design with double wing and two intakes allows the BC219-2X and BC317-2x product lines to achieve a throughput of over 200,000 m3 / h with the advantages of size and capacity.
High performance – energy saving
The wings are designed and manufactured with curved rear aerodynamic profile to help the two-door fan products – TOMECO's double-wing motor operates with outstanding performance up to 83%.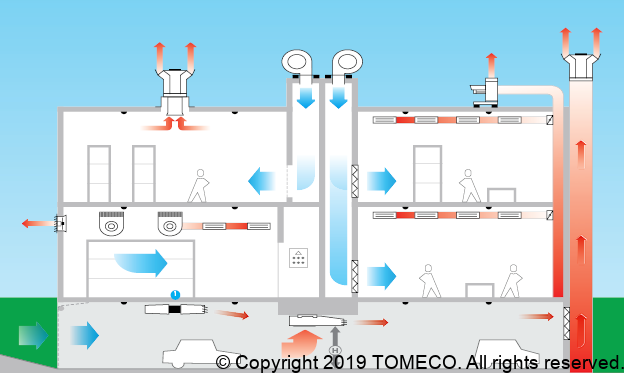 Smooth operation – low noise
Inboard wing design with two side supports helps the fan achieve maximum reliability in operation. Fans are dynamically balanced and calibrated on a digital dynamic balancer, in accordance with ISO 10816. Manufacturing materials and important details such as motors and bearings are imported from manufacturers. reputation.
Durable in all harsh operating conditions
Depending on the degree of corrosion, chemical composition, temperature, humidity of the gas flow, TOMECO can propose solutions to choose materials such as abrasive steel, stainless steel, …