APPLICATION
Smoke extraction process environment oil boiler, wood fired boiler, rice husk boiler, fabric boiler.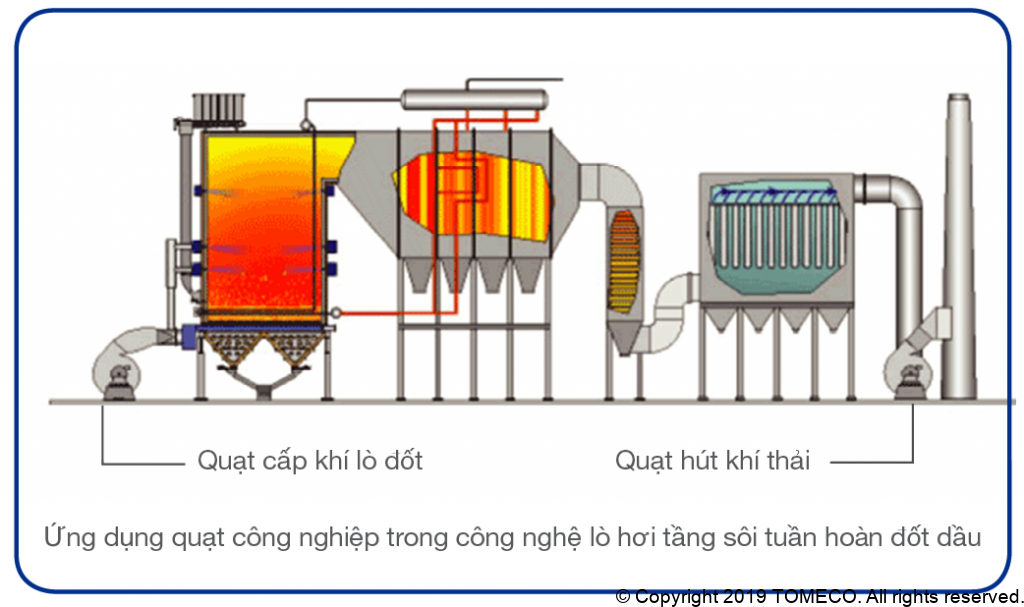 A reliable & reliable companion 24/7/365.
Understanding the 24/7 continuous operation requirements of the boiler / boiler industry, TOMECO pays special attention to the reliability in the product design process to minimize unusual damages and requirements. Regular maintenance and maintenance when put into operation.
Superior heat resistance
Special types of synchronous bearings with circulating oil-cooled lubricating bearings and choice of intelligent materials and special coating technology help fans to be able to operate long-term, durable with air flow High temperature resistance up to 300-400 ° C.
Durable in all harsh operating conditions
Depending on the degree of corrosion, chemical composition, temperature, humidity of the gas flow, TOMECO can propose solutions to choose materials such as abrasive steel, stainless steel, …
Designed to enhance performance & energy savings
The fan blade is designed to be versatile and flexible with curved back designs with high efficiency up to 83%:
---
Large flow, low noise, high efficiency with curved back wing design follow.
---
Design with flexible customization TOMECO can customize the wing width.
Convenient in installation & maintenance
In order to meet the tight space with increasing equipment density in boiler projects, TOMECO always has a solution to ensure the connection of fans with the system takes place easily and conveniently:
Bus, pulley and quick release technology for taper lock busing
---
The door checks and cleans the blades on the fan body.
---
Water lines wash the blades on the fan body
---
The door checks and cleans the blades on the fan body